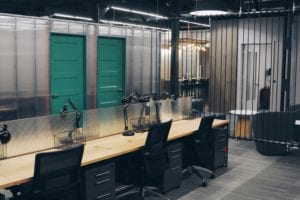 Every writer needs that perfect space in which to work. However, finding it can be a bit more challenging. Many writers opt for the classic (if not cliche) coffee shop because it offers a seemingly ideal balance of focus and activity. In other words, few major distractions, but enough going on around you to ward off those feelings of isolation. Yet a writer's favorite coffee shop is not without it's drawbacks. It's time to consider a more creative workspace solution.
WHAT'S WRONG WITH A COFFEE SHOP?
Let's start with the obvious—you're constantly spending money to "earn your seat". Unless you've made really good friends with the barista, you're shelling out at least $5 a day on coffee, baked goods, and overpriced sandwiches. That's $80 a month! Sure, it sounds like a good bargain, but what is that money really getting you besides coffee and food? You're never assured a seat or an electrical outlet, Wifi can often be spotty or unreliable, and you never know what potential distraction is about to walk through the door.
Ascender is a perfect flexible workspace alternative. Whether you want a designated desk or just need a place to get away from the trappings of less functional settings, the coworking route has you covered. Consider everything you get at an open, collaborative office space like Ascender.
1. A DESIGNATED DESK
Bring in your pictures, favorite pencil cup, and whatever else you need to feel comfortable creating. No more walking into the coffee shop only to find it packed to the gills. No more sitting next to undergrads engaging in problematic conversations about Ernest Hemingway (you always want to chime in, admit it). No more worrying about your laptop battery dying because the only table left is nowhere near an outlet.
Another boon of your own, away-from-home desk? You can leave whatever you want and not worry about schlepping everything back and forth. Maybe this is where your laptop "lives" from now on. Keeping it at your desk will surely motivate you to leave the house and come in to write.
2. A PERFECT BLEND OF FOCUS AND ACTIVITY
Sure, some writers thrive in dead silence, but it can make others a little nuts. Sometimes the din of everyday activity or even a little background music is the perfect way to help you concentrate. On the flip side, everyone in your shared office space has similar goals. No more banal or infuriating overheard conversations at the next table. Everyone's there to work. Again, it's not exactly a library, but those little coffee shop annoyances are certainly absent.
Feel like getting away from the desk? Treat yourself to a change of scenery by taking advantage of one of Ascender's lounge areas. Need to call your agent or publisher? Step into a designated phone booth and have your conversation privately and in quiet.
3. AMENITIES
Do you think we'd let a writer write without coffee? Enjoy access to the kitchen area, stocked with complimentary coffee and tea. It's there for the taking. So, even when you miss that classic coffee shop vibe, it's easily recreated but on your own terms. Never worry about Wifi again. Whether due to not enough bandwidth, spotty coverage, or even use limits, the fight to stay connected is an all too real experience at many a cafe. With 450 mps across two networks, never worry about connection interruptions or time limits.
4. COLLABORATION
A writer is only as good as the story she has to tell. From memoir to fiction to even poetry, the daily fight for inspiration can be daunting. If you're like most writers, you probably interact with other writers in one way or another. Facebook news feeds, emails, constantly submitting to journals, or whatever else. All within an open, collaborative office space, Ascender hosts individuals, startups, and small companies from a wide array of industries and nonprofits. Maybe it's an informal encounter in a common area or a more substantial conversation over lunch. With so many different experiences and stories surrounding, you'll be sure to find something to write about.
GET WRITING AT ASCENDER
Located in Pittsburgh's East End, Ascender is within close proximity to some of the city's most vibrant neighborhoods, universities, restaurants, and of course, coffee shops (for when you need to relive the old days). With monthly plans to fit a working writer's budget, your new work area is just a tour away. Come check us out on Penn Ave, next to Bakery Square. Start by booking a tour, click the button below:
Not ready yet? Want to little a preview of what our space looks like? Walk through our halls through this virtual tour (see if you can find which room we're working in):