About Us
Ascender is a vibrant hub with educational programs for entrepreneurs, mentorship, expert coaching, incubation and a collaborative coworking space that helps drive innovation and growth.
Contact Us
From fledgling tech companies, healthcare innovators, and nonprofits to makers, creators, services and shops, entrepreneurship thrives here.
Our Approach to Entrepreneurship
Entrepreneurship is a team sport. To reach your goal, you will need consistent support from those inside and outside of your organization. Ascender can play a key role in providing that support during that critical period as you acquire the resources necessary to build out your internal competencies.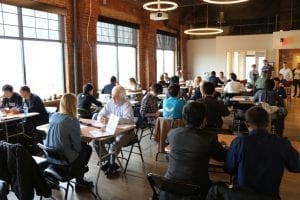 Entrepreneurial literacy is the backbone of a successful ecosystem. A thriving community requires a deeper and deeper pool of players who have strong networks and understand the nuances of business formation, business strategy and business growth. Providing access to anyone in the community to quality content and networking opportunities allows Ascender to play a meaningful role in raising the level of entrepreneurial literacy in the greater Pittsburgh community.
Venture financing is not the only pathway to success. A vibrant and growing community requires small and mid sized businesses, non-profits as well as those striving to become the next unicorn. Our model allows us to work with any type of business regardless of desired outcome as we are not forced to focus only on those businesses that may lead to a financial return for Ascender.
Resources for Entrepreneurs
Programs. Serving our mission to raise the level of entrepreneurial literacy in the community, we provide a schedule of programming free of charge in our event space. We believe our Starters and Builders series is an effective tool for any entrepreneur to learn new content, grow their network by meeting with our speakers and other participants, and a low key way to meet the Ascender team and get high level feedback on their plans. Programs are open to any entrepreneur at any stage of business building.
Mentoring. The backbone of the Ascender approach is to really dig in with each entrepreneur we work with and mutually determine the specific needs and priorities for each business. We do not provide prescriptive answers; our mentoring is individualized and geared towards ensuring each entrepreneur is on a path towards achieving their particular goals, whatever they might be.
Space. In some situations the best path towards success requires physical space that the entrepreneur may not currently have available to them. In these instances, Ascender is able to offer membership in our coworking space which includes one or two dedicated desks and full access to the rest of our office amenities.
Incubation. Investment and access to additional capital sources that fit your growth model.
Connectivity. The team at Ascender is well connected to the entrepreneurial ecosystem in Pittsburgh and surrounding areas. We are able to leverage these relationships to pull the right folks into the conversation at the appropriate time to meaningfully support an entrepreneur on their journey.
Stay Up-To-Date With Ascender