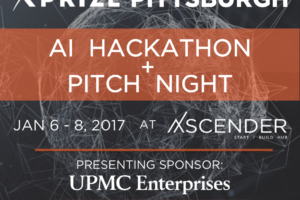 [et_pb_section admin_label="section"]
[et_pb_row admin_label="row"]
[et_pb_column type="4_4″]
[et_pb_text admin_label="Text"]
Following a visit in mid-November by the team managing the IBM Watson AI XPRIZE, Pittsburgh is rallying its local talent for the chance to win the $5 million competition, centered around artificial intelligence technologies that work with and benefit humanity.
On January 6-8, 2017, companies, researchers, and entrepreneurs are invited to participate in an AI Hackathon, a collaborative event where they can share ideas, build teams, and win sponsorships. (Event details at tinyurl.com/aihackpgh17. Participation and sponsorship inquiries can be directed to Kenny@ascenderpgh.com.) The objectives of the event include:
Giving companies with existing AI products a chance to pitch in front of potential investors and get the $1,500 application fee sponsored.
Offering non-AI companies or organizations a low-risk platform to explore AI applications for their work.
Providing entrepreneurs and software professionals a way to contribute to existing teams or build their own teams.
Building an XPRIZE community in Pittsburgh to foster opportunities for future XPRIZE engagement.
This AI Hackathon is free of charge to all participants, thanks to the presenting sponsor UPMC Enterprises, which met with the XPRIZE team in November and hosted a keynote panel with several of Pittsburgh's foremost AI experts. As the commercialization arm of leading integrated health care system UPMC, UPMC Enterprises works to turn innovative ideas into thriving businesses, and is committed to supporting initiatives that drive local innovation, in and out of the health care industry.
"AI is crucial to developing our vision of precision medicine—understanding and providing the treatments and preventative care that are tailored to the individual patient and providing that care at the right time and place," said Rasu Shrestha, M.D., chief innovation officer of UPMC and executive vice president of UPMC Enterprises. "Supporting participation in the IBM Watson AI XPRIZE reflects our commitment to life-changing innovation."

XPRIZE, a 501(c)(3) nonprofit founded by thought leader Peter Diamandis, has spent more than 20 years challenging entrepreneurs, researchers and dreamers around the world to solve the world's grandest challenges. Through multi-million dollar competitions, the organization has created 16 prizes to date, on topics ranging from health instruments to space exploration.
Pittsburgh is already home to space robotics company Astrobotic Technology, a finalist for the Google Lunar XPRIZE set to conclude in 2017. With many more XPRIZE opportunities on the horizon, the city has a lot to contribute and gain through continued participation in this global initiative. Prize sponsor Andy Kuzneski, President of Kuzneski Financial Group, was quick to step up, citing his deep interest in helping to drive Pittsburgh forward by supporting cutting edge initiatives, most notably in artificial intelligence.
The event is organized by and held at Ascender, in partnership with the MIT Enterprise Forum of Pittsburgh and Pittsburgh Code & Supply. Ascender is a startup incubator and coworking space at 6401 Penn Ave., recently rebranded from Thrill Mill. Startups in all industries, including nonprofits, are invited to apply for their 2017 incubation cycle until February 3, 2017.
"Pittsburgh can have a seat at the table for a lot of national and global initiatives," said Ascender CEO Bobby Zappala. "But in order for that to happen, we have to take initiative to work together and create those opportunities ourselves."
[/et_pb_text]
[/et_pb_column]
[/et_pb_row]
[/et_pb_section]