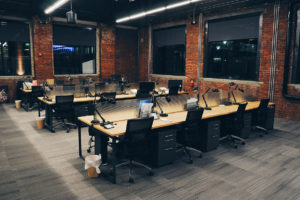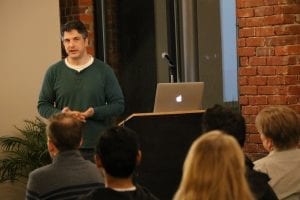 "There is no perfect entrepreneur. You can win in all kinds of different ways."
We sat down with Stephan Mueller to learn more about Ascender, the key ingredients to entrepreneurship, and best practices for startup success. The key takeaway? There's no secret sauce — and no substitute for hard work and great vision.
Stephan joined Ascender (then Thrill Mill) early in the spring of 2015. Since then, he has mentored and advised dozens of startups of all types. Suffering from the self-described "startup bug" for over 20 years, Stephan brings first hand entrepreneurial experience to the Ascender incubator program through his tenure as a co-founder or core team member to three companies as well as his previous experience as an investor in early stage deals. Stephan's LinkedIn.
Current position: Chief Operating Officer, Ascender
First job in startups: Ben Franklin Technology Center of Western PA (now known as Innovation Works)
Startups Co-Founded/Core Team: Apangea Learning (rebranded as Think Through Math), Just Between Friends, and Lily&Strum
Education: B.S. Chemical Engineering, Carnegie Mellon University; MBA Tepper School of Business, Carnegie Mellon University
Q: You talk about being bit by the "startup bug" early in your career. What attracted you to entrepreneurship in the first place?
SM: Being a bit of control freak, the ability to influence and create from the ground up has always been pretty addictive. That and a slight touch of masochism…
Q: Describe the Ascender incubator experience and its importance. What companies are good fits?
SM: One of the keys we try to focus on in our work with any entity, whether they are formally in the incubator program or are just getting advice, is to really hone in on their individual needs. There is no one size fits all! Your goals and current circumstances play a large role in determining what is best to do next. Who's a good fit? Entrepreneurs who are open minded, have a vision and have identified the core competencies needed to move things forward. That could be a non-profit, main street business, or a high flying venture track business.
Q: It's no mystery that the startup experience is full of ups and downs —  so what are some potential startup hazards to avoid?
SM: Wow – that's a whole book there! To pick a couple of pitfalls — A.) Don't fall in love with your idea. There is a really fine line between being persistent and being stubborn. Be very conscious of where you are on that spectrum so that you continue to learn from others. B.) Building a business is a marathon. You will certainly need to sprint (maybe very often), but be prepared to dig in for the long haul. There is no magic line when things all of the sudden become less stressful or easy.
Q: How would you describe the perfect entrepreneur?
SM: There is no perfect entrepreneur. You can win in all kinds of different ways. However, these are a few traits that in my experience have shown to be very important:
A.) Salesmanship/charisma/vision – Whatever your personal style, almost nothing is more valuable than your ability to attract team members, partners, customers, and investors.
B.) Clarity/focus – In a super ambiguous environment where you have extremely limited resources, having an objective way to decide what to do next is critical to keeping your team on track and making meaningful progress towards your goals.
C.) Work ethic – Although just working hard is not sufficient (and no one is handing out martyr awards), be prepared to dig deep to push yourself and your team.
5.) Reflecting back on your career, what are some of the best strategies and habits for startups to adopt?
Recognizing that there is no "right way", a key tenet in my philosophy is to always strive towards knowing why you are doing what you are doing at any point in time as explicitly as possible. This requires you to have a goal and to be very thoughtful about what steps will take you there without requiring some magical leap of faith. Oh, and if I were to get a tattoo, "Hope is Not a Strategy", is not a bad thing to remember!