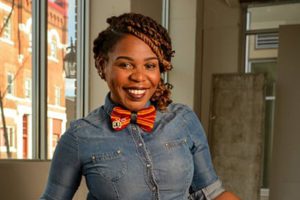 I journeyed out to Nisha's studio in Radiant Hall Homewood to meet up and talk bowties and business. Her studio (as well as the other artist studios) inspires creativity and community. Nisha's is filled with colorful fabric scraps and samples. It is really fun to sit on her couch and brainstorm around your event. We had fun collaborating with her and D.S. from Boom Concepts for an exclusive Thrival bowtie. You can find it in this year's VIP gift bag or reach out to Nisha to buy one for yourself!
What is your business?
Knotzland makes handmade bowties with upcycled fabric. Many of the fabrics we use come from partnerships with clothing and furniture companies who have leftover material and no plans for what to do with them. The fabric finds it way to to the studio, where we then design our collections to be handed to our sewing designers for production. Many of our orders consist of bow ties for weddings, events, and boutiques.
We (Knotzland) also support economic opportunities through our unique sew-from-home seamstress program. We begin by training women on how to sew our unique materials, and then they can make an income from the comfort of their own homes. Being a public transit rider, I know how time consuming it could be traveling to and from different places to earn cash. We have thoughtfully developed our sewing community to reclaim this time. Once our in house training is complete, we provide opportunities to earn additional or flexible income without having to leave home, allowing for more time at home or with their families. Our goal is to grow to the point where we can offer our seamstresses in-house part and full-time opportunities, if they are interested, and to bring on more part-time and full-time people to help build the community.
How did you come up with your idea?
Growing up, out of necessity, we often ended up thrifting and re-using. I then became passionate about making sure that I got the most use out of everything I owned. This is really engrained from my childhood, where I would travel with my mom and grandma to thrift stores on the weekend to outfit our family and others in our neighborhood.
Fast forward to when I started nursing school. I finished pre-nursing school and actually loved it, but deep down I knew that it could not fulfill my passion for creativity. Somewhere between applying for the full-time nursing program and getting laid off from my summer job, I taught myself how to make hair bows for girls by watching YouTube videos. The response to the hair bows was overwhelmingly positive, so much so that I supported myself the entire summer of 2014 selling them via my Instagram/Facebook and word-of-mouth. We would often get customers commenting on how cool the children's hair bows were because they were made using adult-like vintage and thrifted fabrics.
Towards the end of the summer, I had a request for a bowtie from one of our previous customers and after further research, I had discovered that the boy/mens clothing market was largely underserved. I purchased a few bowties to use as models, and rolled out my first bowtie in August 2014. What is interesting is that men (mostly dads) started requesting bowties for themselves because they saw their sons, nephews, or neighbors wearing them. I dug deeper into my research of the menswear market, and discovered that men wanted more individualized and trendy looks.

What is your vision?
I recently revamped my business plan and business model canvas, and it is so different than it was a few years ago. I am looking to scale in two ways, the first being by replicating the business model in other cities (finding a "me" somewhere else). I think there will be more of a need for "at home" and "where you are" opportunities as our cities and infrastructures change.
The second way I want to scale is by having more retail partnerships. These partnerships are geared towards high end retailers who want a collection that is customized, curated, and suited specifically for their customers. My "I have made it" moment is to have a small batch collection at Barney's.

Did you picture yourself doing what you are doing now?
Heck no. I did not think about being an entrepreneur, I kept trying to stay on the traditional route. Looking back, I grew up around female entrepreneurs who always had their own business or venture. I remember thinking to myself "What could they do better to make their business a success?".
I never would have guessed that I would be in the bowtie business. Being a woman in menswear is a legitimately weird experience. When I have people call to solicit for business and they ask to speak to the decision maker, sometimes they do not believe that it is me. They have a bias towards hearing a male voice.

Why did you choose Ascender?
Crafters have a difficult time planning for the future. I knew that I may want to do this full time, so I attended Ascender's bootcamp with my crazy bowtie idea, and never thought I would be accepted. During the my final pitch, I had my little brother on stage with me modeling our bowties! From there, I was accepted into the cohort, which was a great way to share information, have a sounding board, and continue to learn. Working with Stephan helped me to think outside of crafting and plan strategically.

What happened after Ascender?
When Ascender moved to their new location near Bakery Square, I moved into my current space. We kept growing and attracting more and more customers and collaborations. I needed to get my bearings quickly and found that our core mission of the business—social entrepreneurship and building something bigger—was something people wanted to be a part of and assist in, in any way possible.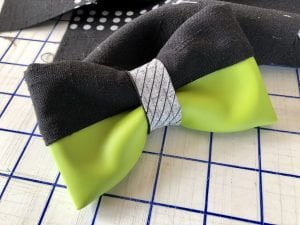 What advice would you give to people starting out?
Do not plan yourself out of the business to the point where you do not start your own business. You do not need to have all of your i's dotted and t's crossed before starting out. Sometimes you just need to start and go for it full force!

What is your one (or many) lesson learned?
I did not realize how many professional development opportunities came with being an entrepreneur. I was chosen for Facebook's 2018 Small Business Council and I was also featured by Google for their "Grow with Google" product. The exposure is great for business, but as a Black Woman, I always have to be sure that I am intentional about the ways in which my narrative is shared. I have worked extremely hard to build Knotzland, and I have learned how to say "This is my story and my way"