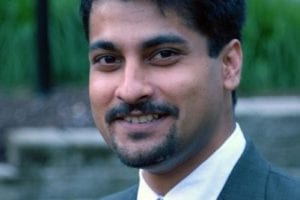 I met up with Pittsburgh entrepreneur Vivek Kulkarni, Founder and CEO of ARIN Technologies, at their new space on the South Side. I was lucky enough to be there when Vivek got a phone call that a potential customer was signing on for a demo, which was a big win for the team. Vivek is full of snippets and sound bites, and the two that stood out to me are:
"When your technology is completely ready, you are too late."
"If someone is willing to drop money on something, it tells me it's a problem."
What is your business?
ARIN Technologies is solving for location awareness where you are GPS blind. Our solutions can solve a variety of problems faced by manufacturing, logistics, fulfillment centers; basically any company needing to track and locate things. It can even be used with people, such as tracking firefighters when they go into a burning building. The solution set is endless which is why we are currently focusing on:  
  Collisions in warehouses, such as between forklifts with people or equipment.

  Tracking and tracing equipment, parts, and work in progress within a warehouse or facility.  

  Tracking the flow of people/items to find bottlenecks in the process.
How did you come up with your idea?
I was working at my job running a 200+ person team, and I needed to do something to satisfy the creative and technical sides of me. This started as a hobby by just messing around with technology, programming sensors and crunching data.
Initially, I thought the technology could be used for first responders, but after doing market research, I found that the technology, although needed, was lower on their priority list; it was a problem they can't afford to spend on.
After running into a few people in manufacturing, I realized that this was a good space for the solution. As funny as it sounds, inventory and parts were constantly getting misplaced in facilities, which slows production and causes cost overruns. Furthermore, forklifts were constantly running into things, including people. Indoor Positioning Systems (IPS) can solve for these issues.
What is your vision?
Let's look at GPS, which is a technology that has been around for 40 years, but has only taken off in the past 15 years — we have gone from geocaching to Waze. IPS is where geocaching was 20 years ago. This technology has the same opportunity and trajectory. My goal is to have the technology used in all warehouses and inside all facilities.
Did you picture yourself doing what you are doing now?
I always imagined myself as an entrepreneur, but not sure what I would be actually building. I have worked for large companies, but always knew I wanted to be a part of a start-up.
Why did you choose Ascender?
Honestly, I had no clue what I was doing. I looked around at the sources of help and guidance, and Ascender announced their incubation program, and I submitted an application.
What's happened after Ascender?
I was accepted into Alpha Lab Gear and completed the program. I then returned to Ascender's co-working space to continue building. We recently moved into our new space, although I still come to Stephan for advice.  
What advice would you give to people starting out?
If someone comes to me with an idea, I would honestly tell them "Don't do it."  Building a business is tough. There are many parts you may not enjoy doing like reviewing legal documents, financial projections, taxes, firing people. If you don't want to do these parts, it's just a hobby.
You also need to be hard headed enough to find data points to verify that A) you are actually solving a problem and B) people are willing to pay for it.  One of the first questions you need to ask is "Are you willing to pay for a solution?"
What are your lessons learned?
You need to understand the market you will be operating in before trying to find a partner. And while looking for a partner, do not give away too much product information and technology before an agreement is reached.
Prepare for your demos, including your technology! I once had a demo and the computer started to do an update and restart in the middle of it.