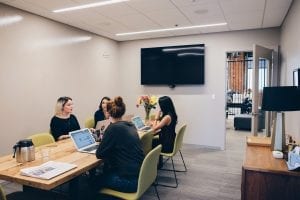 No matter the size of your company, productivity is always tantamount to success. Even if you're a freelancer, taking the time to ensure you're organized and on top of everything can drastically improve your workflow. While everyone has his or her preferred styles and practices for remaining productive, we thought we'd offer a few of our favorite online tools to stay ahead of the curve.
Sprout Social
Your marketing team and brand managers will love this site. Sprout Social lets you integrate all of your social media channels in one spot. Facebook, LinkedIn, Twitter, Instagram, Google+ are all supported. You can post to your pages through Sprout or schedule them in advance. You can include as many team members as you like and even set up posts to require editing and approval.
What makes Sprout even more amazing is the ability to run full analytics reports on your channels. You can view impressions, engagement, reach, and other facets all without leaving the site. Sprout also makes it super easy to package these reports and send them to whomever you'd like. Sprout Social has truly thought of everything and helps you stay on top of your company's social media presence.
Moz
Is your website reaching its full potential? If you're a newer company or startup, it can be difficult to stand out in a Google search. Moz is here to help. By running weekly analyses of your site, you'll be able to see where you stand in terms of SEO, keywords, site rankings, and more.
One standout feature is the Crawl Test. Simply by entering your website's domain, Moz takes all the work of a website audit out of your hands and generates a full report. These reports show you any pain points on your site so you can address them and increase your site's visibility, ranking, and overall success.
Trello
This is more of an internal tool. Trello is your online corkboard. It's essentially an online planner and task manager. You have the option to create boards for various tasks and operations and move things amongst customizable categories as needs be. For example, you can sort tasks by "to-do," "doing," and "done." You can make different boards for various aspects of your daily, weekly, and monthly duties such as expense reports, marketing, and meeting schedules. There's a place to add notes and comments and even upload Google Docs, Microsoft files, and PDFs.
The best part might be how easy it is to collaborate within Trello. You can assign tasks or check on their status by tagging coworkers in the appropriate card or board. It also allows you to check the progress of any task simply by viewing it. No more waiting for email replies or tracking down your employees. Another fun thing is your boards' appearances are customizable. Who doesn't love a picture of a sandy beach while dealing with invoicing?
Hotjar
Now that you've got your social media running smoothly, your tasks are all allotted, and your SEO is spot on, it's time to understand what visitors are actually doing on your site! Hotjar shows you exactly where people are going on your site – there's even a heat map to show you where visitors are lingering their mouse and how many times a specific link is clicked.
So why is it important? Sure, it's neat to see where your visitors are going, how they're poking around on your site, but this tool also helps you further optimize your site. You might notice that visitors tend to stay near the top of your page, not scrolling down too far or too often. That might not be the best place for a new link then. Maybe you're seeing a lot of activity around the blog space and decide writing more blogs is a good idea. Through Hotjar, you can really begin to understand your visitors' behavior and preferences, allowing you the opportunity to grow and change accordingly.
Obviously there's a seemingly infinite number of sites, tools, and platforms all geared at helping your company or startup succeed online. While this list isn't the be-all, end-all by any means, it's helpful to remember all the areas your web presence needs attention.
Ascender is the Perfect Home Your Online Tools
Need a coworking space to run all these great platforms? Ascender's state-of-the-art Cisco Meraki networking gives you 450 Mbps across two connections to ensure 100% service availability. Learn more about all of our amenities and book a tour by clicking the button below:
Not ready yet? Want to little a preview of what our space looks like? Walk through our halls through this virtual tour (see if you can find which room we're working in):