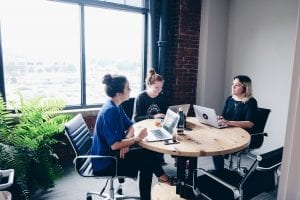 Pittsburgh has certainly become a hub for many different industries over the past few years. Specifically, it's become one of the best places for startups and working remotely. Whether you're a lifelong resident of the 'Burgh or a more recent transplant, you know each area and neighborhood of this city boasts its own, unique characteristics and offerings. Our side of town is no different. Pittsburgh coworking is at its finest in the East End.
What do people mean when they refer to the "East End?" As you might expect, it's the area of Pittsburgh located east of downtown. It's comprised of neighborhoods like Shadyside, East Liberty, Highland Park, and Friendship, among others. So what are the advantages of finding a coworking space on this side of town?
What Makes the East End a Great Location?
The first rule of real estate has always been location, location, location. For us, that means proximity to some of the city's best thought leaders and industries. Ascender is located on Penn Ave directly next to Google and Bakery Square. It's a quick bus or car ride from Downtown and simple drive down 5th Ave. from most of the city's top universities.
But what's so special about the East End is the collection of classic Pittsburgh neighborhoods that make it up. There's a "scene" for everyone. Many of our coworkers choose to live on our side of town because there's always a niche to fit their needs. Looking for trendy city living with room to grow? Shadyside is right across the street. Maybe you're someone who wants the best of both worlds, quiet yet close. Look no further than Friendship or Highland Park. Or maybe the hustle and bustle of a classic Pittsburgh business district is more your speed. You can't go wrong in East Liberty or Bloomfield. Whatever your preference, they're all within reach of Ascender.
Plenty of Space in the Heart of Pittsburgh
Inside our coworking space and out, you'll never feel cramped at Ascender. Without the typical confines of a normal office building, we've really spread out on the third floor. Be sure to take a look at our new virtual tour on Google. Not only does this give us enough room for plenty of desks and office space, but you'll never be at a loss for a conference room, lounge, or general meeting area.
Outside is no different. The shopping center in which we reside comes complete with a massive, free parking lot. No more battling for a parking spot, having to parallel park on the street, or pay ridiculous daily or monthly fees.
Convenient Coworking and Commuting
 Ascender's spot in the East End ensures you'll never be far from pretty much anything you might need. We're a 15-minute walk from about five grocery stores, four coffee shops, plenty of big box and small business retailers, gyms, and countless bars and restaurants. Sure, every part of the city has its own amenities, but ours are literally right outside our door.
Did we mention getting to Ascender is also a breeze? On top of free and ample parking, we sit on the 88 bus line, are minutes away from the East End Busway station, and situated on an extensive network of bike lanes. Looking for a novel way to get to work? Uber's self-driving cars are all over our side of town!
When looking for your next Pittsburgh coworking space, whether you're on your own or need a space for your company, deciding where to hang your hat is an important step. The city offers plenty of areas to explore and examine, but none come close to the perks, amenities, and convenience of the East End. Stop by our part of town and have a look around. You won't be disappointed.
Ready to hang out (and work) on the cool side of town? Book a tour with Ascender today!
Want to little a preview of what our space looks like? Walk through our halls through this virtual tour (see if you can find which room we're working in):